The Aim
The purpose of my niche blog was to look at the contestants on the reality television show The X factor, in a light-hearted, tongue in cheek way. I wanted to present an unbiased judges opinion on the performances, as I felt that in recent years the judges on The X Factor had become increasingly more tactical with their comments. I also wanted to create discussion with other X factor enthusiasts, by posting bold, honest blog posts and communicating with them through the blog comments.
I aimed to do this by posting three to four times a week with two main posts after the two live weekend shows. I wanted to create discussion on my blog by becoming a regular visitor on other X Factor blogs and encouraging readers of those sites to visit my own.
The Reality
I posted on average four times a week. The first post revealed the song choice rumours for the upcoming live show, the next post revealed the official song choices for the live show, the third post reviewed the live show with links to all performances and gave an elimination prediction and the fourth post confirmed who had been eliminated.
I quickly realised that the key to my blog being successful was timing. Viewers of the show wanted to read about it and discuss it as soon as possible and as a result I had to get my posts up quickly. This was particularly true of the weekly post that showed the official song choice. The official song choices were revealed at 5pm on a Saturday, so I aimed to get my post up by half past to try and be one of the first sources on the internet with this new information. As a result the purpose of my blog did change slightly, although I was still presenting an opinion on the show and creating discussion with other enthusiasts, I was also trying to be one of the first sources of new information for X Factor fans.
My main post was my review after the live show; it gave a small round up of the evening, a short review on each performance, elimination predictions and also a "Dermot joke of the week" which was very popular with my readers. These pieces were often fairly long for a blog post (between 1000-1500 words) and although they contained links to the performances there were no other visuals on the post, which could lead to them being a bit intimidating to read. However I tried to break them up with bullet points and titles so that they were easier to dip in and out of.
Tellymix – The big hitter
These posts were the most popular of my four weekly posts and I continued to comment on other X Factor blogs. One blog, tellymix spotted my weekly review on the comments and offered me payment if they could post it on their site. I agreed and I also linked from tellymix to my blog. As a result of this I received considerably more hits. After my first post on tellymix I received 148 views in one day. In my 2010 automated wordpress review it read that, "A Boeing 747-400 passenger jet can hold 416 passengers. This blog was viewed about 1,500 times in 2010. That's about 4 full 747s." I believe that a lot of this traffic was driven by my guest blogs on the popular and highly search engine friendly tellymix.co.uk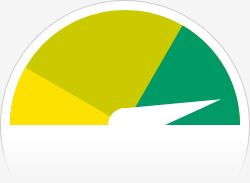 The Blog-Health-o-Meter™ reads Wow. (WordPress diagram from 2010 review)
Social Media
My social media strategy was to link to my blog through Twitter and Facebook and become a visible presence on X Factor forums. In practice I linked to every blog post on my Twitter feed and tagged it #XFactor. This brought new people to the site, particularly those looking for song choice rumours and official song choices. I also created a page on Facebook and posted a link to every new blog post; this was very successful and it brought in more readers and comments. Unfortunately I was not as visible on X Factor forums as I would've liked to be, and if I were to create this blog again this is certainly something I would like to build up.
Changes
The other changes I would make to my blog would be to have more images and visual excitement. I wanted to find lookalikes to feature on my blog, but unfortunately I wasn't able to find any and with legal problems surrounding the use of X Factor images my blog posts looked a little dull. I would've also liked to have had more interviews with experts and possibly celebrities to get their opinions on The X Factor. I was lucky enough to talk to one X Factor auditionee after the show had finished and I felt this added more depth to the blog and I would've liked more of these. I thought polls would work really well on this blog as the whole show revolves around voting, however when I did try a poll there were very few responses and it didn't work. I could've experimented more with different types of polls and tried to get more feedback on the shows in this way.
Success?
Overall I feel that my niche blog was a success and tapped into something that people were very eager to read and discuss. There are changes that I would've made to the execution, but the bullet points and short opinion paragraphs seemed to work well.
Top 3 posts
Blogging: it's journalism Jim but not as we know it – A blog post after a talk with Adam Tinworth on the importance of blogging for journalists.
X Factor Live Show Week 8 – This was my longest blog post and it shows the layout of my reviews of the live shows. It also contains links to all the videos of the performances.
Official song choices for X Factor week 8! – The popularity of these indicated that people were beginning to rely on my blog for the X Factor news.